 Meet Estimation Manager Tom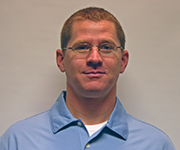 Estimation Manager Tom has been with Budnick for nearly 25 years and has held numerous positions within the organization. Before becoming the Estimation Manager last year, he was most recently the Press Department Team Leader.
Here's a little Q&A we did with Tom:
What does Budnick's tagline, Converting Ideas Into Solutions, mean to you?
TB: This is a perfect tagline for Budnick. From Sales to Production, we have many tenured employees with hundreds of years combined experience. Everyone strives to solve problems and convert ideas into realities for our customers.
What do you like most about your job?
TB: I work for a world class organization in a world class facility. There aren't many converters that can compete with all the capabilities we have under one roof. Budnick is like family with a work hard, play hard attitude.
What is your favorite part about working for Budnick?
TB: Growing with the company. Watching our homegrown staff become industry experts is something to be proud of. Ownership has made this possible by listening to us and investing in whatever is necessary for success.
What's the best thing about your job?
TB: Since moving from production to estimation, it's nice getting involved in projects up front. It is much easier to apply experience and knowledge on the front end than on the back end.