 Meet Our New Customer Service Manager, Sundi (Sunny)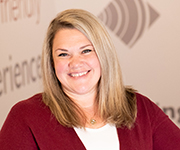 Budnick's customers are the #1 priority. To better serve you, we've created a new position of Customer Service Manager. Sundi (Sunny) has joined our team to oversee most aspects of our Customer Service. Sunny is ensuring there is a high level of effective communication with our valued customers.
Sunny has over 13 years of Customer Service experience, with much of that time spent in a managerial role. She also has extensive working knowledge of Budnick's ERP software system, and much of Sunny's experience is in Budnick's core manufacturing markets.
We asked her a few questions to get to know her better:
What is your favorite part about working for Budnick?

SD: The people – I have never worked for a company where I immediately felt like I was part of a team the minute I stepped in the door. You can tell it is very important to the Leadership team that every employee feels welcomed and has their voices heard.
What do you do in your free time?

SD: When I'm not running around with a camera in my hand, I am usually spending time with my Husband, kids, and other family and friends fishing, playing bags, kayaking, and various other outdoor activities. I love being outside!
What's the best thing about your job?

SD: My Team – They are an amazing group of individuals who love what they do and the products we sell. They go above and beyond for our customers and sales team doing anything they can to help them reach their goals.